On Board Your Island Windjammers Caribbean Sailing Cruise
Leave your real world behind, and surround yourself with sea, sand, and sails. Rediscover the simple joys of life—sun-soaked days, the snap of sails in the breeze, a wooden deck rolling gently beneath your feet—as you chart a course for a hidden island paradise.

"Thanks for making my dream of sailing on a tall ship a wonderful reality! 30 years was worth the wait. Captain Matt and all the crew were gracious and knowledgeable. And of course the food was super! Spoiled us with the lobster! Many thanks. It's a treasured memory."
- Marlene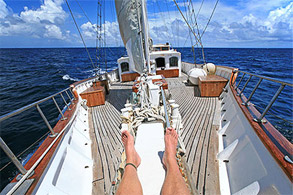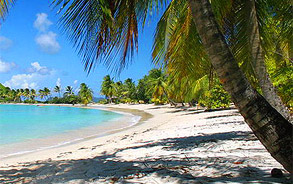 Island Life - Simple, Sultry, Sublime
It will be a matter of hours after the sails are raised that you'll mentally cross over to what we call "Island Life." It's a shift to a slower pace, when all that matters are life's simple joys of sun-soaked days  and moon-filled nights.…warm teak decks, full sails and sultry islands. It's a sublime feeling that invades your being, frees your mind, captures your heart, and awakens your soul.
Good morning sunshine!
Your day begins with a hearty breakfast of fresh fruit, a hot entrée' and a steamin' cup of fresh brewed coffee. Join your skipper on deck for Captain's Storytime to get tips on what you can do ashore, with a little bit of island lore thrown in. No fairytales – just the "need to know", so you don't waste time wondering what to do and where to go. The day's schedule is also posted in the saloon for sleepyheads and late starters.
Limin', Chillin', Beachin', Sailin'
How much you do is completely up to you. Perhaps your perfect day involves curling up with a good book on deck, or swimming off the side of the ship under the watchful eyes of our crew, or taking a kayak for a spin?
Lunch may be served on board, or you may have an impromptu picnic on the beach. You may even want to do your own thing for your midday meal, at a local bistro or island pub.
Afternoon Delights
When the sun is over the yardarm, it's time to meet up with fellow shipmates for rum punch, delicious appetizers, and tall tales of the day's happenings.
Leave some room for a sumptuous dinner!  Be it a casual buffet or sit-down affair, it's never formal and there is never assigned seating. Dinner is served in the saloon, or open air on the aft deck.
Complimentary locally brewed beer, wine and soft drinks are available all day. You're free to bring your own spirits on board to mix up your own favorite tropical drink
Make the tall ship sailing experience your own
Sailing is invigorating and exhilarating --- whether you're helping the crew hoist the sails, or shouting encouragement between sips of a cool drink.  Take the helm – for a photo op or the real deal! Our crew is eager to teach you all about the ship, the islands and their people.
This isn't a vacation, it's island life. Let's go sailing!