The Grenadines are part of the Windward Islands, known around the world as a yachtsmen's paradise. The Grenadines are an exclusive sailing ground made up of over 600 islands, divided between the two nations of Grenada and St. Vincent & the Grenadines. Our captains have designed an itinerary that offers the most desired ports of call in the region.
Home port:
Port St. Louis, Grenada
Airport Code:
GND
Tall Ship:
Diamant
Sailing Dates:
Board Friday Noon, Disembark Thursday 10AM
Visit:
Carriacou, Union Island, Bequia, Tobago Cays and Mayreau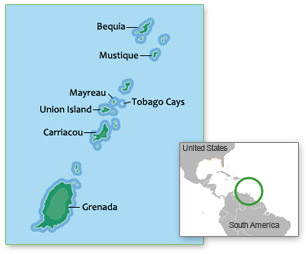 ---
---
Grenada
Banter and bargain for fresh nutmeg with the friendly spice ladies in the colorful and vibrant spice market in the capital city of St. George's. Shop for souvenirs and jewelry in the waterfront boutiques, and wet your whistle with a cold rum punch at a local watering hole. Days are fulfilled with picturesque harbors, white sand beaches and lush rainforests. Come see for yourself, and let Grenada add spice to your life.
Carriacou
Take a step back in time to the real Caribbean. Known for their boat building and seafaring skills, Carriacou locals can trace their ancestry to Africa and Scotland. Explore the old cemetery and find centuries old markers. Feast on fresh-caught lobster, featured in local restaurants from September through April, or grab a snorkel and take a short swim to the coral reefs that teem with colorful life.
Bequia
Bequia may also be known for its boat building and seafaring heritage, but it's the seafood pizza at Mac's that shipmates can't seem to forget. Be sure to visit the Old Hegg Turtle Sanctuary, but save some time for shopping at tiny boutiques filled with local art, scrimshaw and model boats. A sail, kayak or dive excursion from the golden beaches of Bequia completes your visit.
Union Island
Volcanic Union Island, the southernmost island of St Vincent and the Grenadines, is sometimes called the Tahiti of the West Indies. Laze away the day on Chatham Bay, said to be the most beautiful beach in the Grenadines. Find your smile on tiny, Happy Island, built by hand with conch shells. Happy Island's bar is a popular spot for cold ones and limin' – island talk for hanging out.
Tobago Cays
Why settle for one perfect uninhabited islet when you can have many? Tobago Cays are what tropical dreams are made of: stretches of unspoiled beaches, water as clear as glass, and "t-shirt trees" that beg you to bring unique home colorful souvenirs. You'll be counting the days until you can return!
Mayreau
Take a hike through the village to the other side of Mayreau for a refreshing swim in gleaming Saltwhistle Bay, arguably the most beautiful bay in the Caribbean. Be sure to stop at the crest of the hill by the church for a majestic view of Tobago Cays, Canouan and Union Island. The highlight of any visit to Mayreau is the Cultural Walk, a progressive tour of local watering holes that offers an "intoxicating" taste of the local nightlife.
"To the Indies!" shouted explorers and pirates from the decks of tall ships. Set a course for the Leeward Islands and the French Riviera of the Caribbean. Discover a treasure trove of breathtaking beaches, old forts, and seaside villages waiting to be conquered by adventurers like you.
Home port:
Philipsburg, St. Maarten
Airport Code:
SXM
Tall Ship:
Sagitta
Sailing Dates:
Board Sunday 2:00PM, Disembark Saturday 10AM
Visit:
Anguilla, St. Kitts, Nevis, St. Barts, St. Eustatius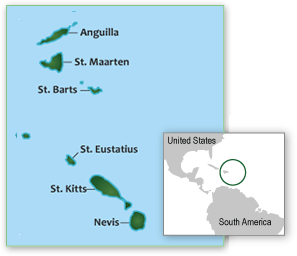 ---
---
St. Maarten
One island, two countries – one side French, the other Dutch. Does that make it twice as nice? We think so! Put your money on red in a world-class casino, or on black — the little black dress you discovered in a chic boutique. Sail America's Cup, and celebrate your victory with a bottle of champagne at an au natural beach. Sint Maarten / St. Martin, in any language, is your kind of paradise!
Anguilla
Take a romantic stroll on your own private slice of brilliant white sand. Hunt for seashells, feel the breeze, gaze at incredible horizons. Indulge in the delightfully delicious cuisine offered at casually sophisticated island restaurants. Late nights will find you enjoying the local music scene, as the rhythm of reggae and string quartets fill the night air. It's everything you've heard, and more! Anguilla will be your paradise found.
St. Kitts
Take in the view from Brimstone Hill, or wander off and enjoy high tea at a historic plantation. Go bird watching, monkey spotting or snorkeling. No visit to St. Kitts is complete without a visit to Caribelle Batik, located in historic Romney Manor. Take home a beautiful island-inspired wall hanging, or clothing made by a local artisan.
Nevis
Halos of white puffy clouds floating high atop Nevis Peak remind us that we're close to heaven on earth. Gingerbread-trimmed cottages and old plantations dot the countryside. Take a hike, play golf, or spend a decadent day doing nothing but sifting sand through your toes on a perfect beach. And don't miss the Killer Bees at Sunshine's!
St Bart's
Millionaires, rock stars and sailors like you eat cheeseburgers in paradise at Le Select, the inspiration for Jimmy Buffet's song. Marvelous beaches, gastronomical delights, and bistros made for people watching and sipping fine French wines…it's an ooh la-la kind of day, St. Bart's style!
St. Eustatius
With a few kicks of your fins, you'll find yourself in a diver's paradise. The waters surrounding Statia are cluttered with shipwrecks that provide an underwater sanctuary for colorful coral and rare fish. Take a hike to The Quill, an extinct volcano—then cool off with one more dip in the azure Caribbean Sea.