Your Island Wedding and an Island Windjammers Caribbean Cruise
Whisper "I do" Island Windjammers style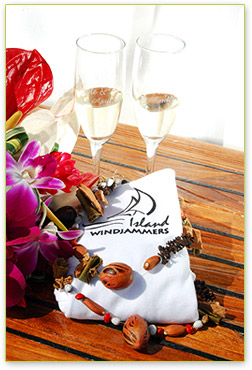 When you picture your perfect wedding, where does it take place? At the base of a roaring water fall, surrounded by wild orchids and exotic birds? Does wedded bliss happen when you kiss on a palm-fringed beach, gentle waves lapping at the shore? Or do you whisper "I do" on the deck of a majestic tall ship?
We make your Caribbean island wedding easy for you!
Your wedding dreams become reality at Island Windjammers! It's as easy as a phone call.  Our experienced Island Wedding Planners take over from there. Island Windjammer planners are familiar with all aspects of wedding planning and will ensure that your one-of-a-kind wedding experience is as breathtaking and fabulous as you imagined. Every detail is looked after so you don't have to. You'll have no worries—focus only on each other and the moment you exchange romantic vows. It's wedding bliss, taken straight from the pages of the sweetest romance novel. 
From Wedding Bliss to Honeymoon Kiss
Can it get any better? Glad you asked.  No rushing to the airport for the long awaited honeymoon—you're already there! Now that's what we call perfect planning!
Wedding, vow renewals, honeymoon or anniversary. There really isn't a better way to celebrate love than on an Island Windjammer Cruise
Caribbean island wedding costs start from just $995 (US) when booked with cruise and include: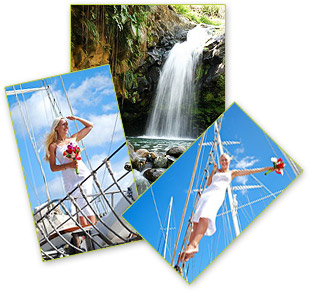 Wedding planner
Legal paperwork & witnesses - if needed
Keepsake copy of personalized marriage vows
Transportation to wedding location (separate or together)
Marriage officer (civil or religious ceremony)
Tropical bridal bouquet
Tropical flower groom's boutonnière
A chilled bottle of champagne
Single tier wedding cake adorned with fresh flowers
Ask us about our optional choices:
Stunning photo packages from our professional photographer
Steel pan music at your ceremony
Hotel arrangements pre & post cruise, with honeymoon gift
Contact us to plan your dream Caribbean island wedding and Island Windjammers Cruise at  877.772.4549 or weddings@islandwindjammers.com.